Organizing Your Business's Funds Through Portfolio Mix
Portfolio mix allows you to better allocate your business's funds where you need them.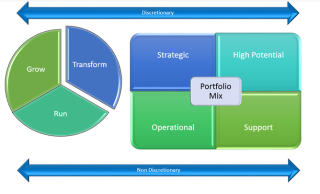 Portfolio mix is a system used by successful brand-name companies like Zappos, Nordstrom, and Amazon that allows business owners to easily allocate funds to different parts of their business. This system, which organizes different business areas into categories, helps business owners to determine which areas are most important and gives them a better idea of where their funds are being spent.
This process breaks down investments into two categories: non-discretionary investments, which must be made to keep the business running, and discretionary investments, which are optional but help the business grow and move forward. This type of organization can help pinpoint where a business may be investing too much money.
The process of portfolio mix has been broken down into smaller steps, and many of the most successful companies base their discretionary and non-discretionary spending on either the Gartner organizational method or the Cranfield School of Management method.
Gartner Method
This method is a simple organizational process with three steps:
1. Grow: This step accounts for 25-30% of a company's budget and includes marketing, advertising, community outreach, and conference travel and attendance. Any project that increases your customer and revenue base is part of the "Grow" stage.
2. Run: These are the bare necessities — paying bills, upgrading cyber-security systems, and organizational dues are just a few. These funds account for 50-60% of a company's budget.
3. Transform: When Apple introduced the iPhone, it brought them a fan base. They already had a market, but the iPhone and iPod made the company rock stars of the tech and music industry. That's one of the most perfect examples of transforming your business to reach a new market.
Cranfield School of Management Method
Similar to the Gartner method, this mix is broken up into four steps:
1. Strategic: This step mirrors the "Grow" phase, and is based on areas like marketing, advertising, and strategic placement of those and all associated characteristics.
2. High Potential: These are areas that aren't critical to success but have the possibility for high yield.
3. Operational: These are also the bare necessities — bills, upgraded systems, staff and employees, and all other operational factors.
4. Support: This step consists of non-discretionary fund allocation to keep your business running.
While these portfolio strategies are often used by some large name companies, small businesses can also use it to help move their companies forward. For more tips to improve performance and profit, join me every week for my videos. I'm Gerald J. Leonard, the author of "Culture is the Bass: 7 Principles for Developing a Culture That Works." 
If you're looking to take your organization's delivery culture to a new level, I invite you to have a chat. Whether or not we decide to do business together, I am confident that our call will be full of insights and actionable steps to help you improve your strategy execution culture. Here's a link to my scheduler: www.vcita.com/v/geraldjleonard. If the date and time that you need are not available, please send me a message to request a date and time that works best for you. I look forward to meeting with you!