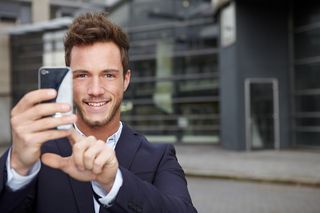 "Cutting the deficit by gutting our investments in innovation and education is like lightening an overloaded airplane by removing its engine. It may make you feel like you're flying high at first, but it won't take long before you feel the impact." –Barack Obama
Part 3 – My favorite apps, numbers 21 – 30:
21. HootSuite: The HootSuite app allows me to publish a single tweet to multiple social platforms with one click.  When I find a great story, blog post or quote I can share it using the Hootsuite mobile application. I can also schedule multiple tweets to be delivered at various times throughout the day or week so that tweets are forwarded while I'm meeting with clients or working on internal deliverables for my company.  This is a great way to share tweets during a vacation without sacrificing time with your family and friends.
22. Kindle: The Kindle app allows me to read books for my iPhone. I can synchronize the app with the Kindle apps I have on my laptop, iPad, Microsoft Surface or other mobile devices. This app also allows me to synchronize areas within a book that I have highlighted, categorized and added notes for future reference. 
23. LinkedIn: The LinkedIn mobile app allows me to access and edit my LinkedIn profile and view the profiles of those that I'm connected with. It allows me to search for new people and also view news, companies I'm following and groups I belong to. I can also send messages and invitations to add others to my network. I can see who has viewed my profile, posts, and updates to groups that I participate in. This is a great app for networking with professionals across industries and for preparing for meetings with people who have profiles on LinkedIn.
24. Mind Tools: Mind Tools is a mobile app that provides great content for developing personal and professional productivity.  It's a training tool for business concepts as well as great articles you can share. Mind Tools contains best practices on strategic planning, communication, risk management, problem solving, time management, leadership skills and much more. The application contains hundreds of great training resources, sample processes and practical how to guides.
25. Marriott: The Marriott mobile app allows you to use your Marriott rewards points to review, book and reserve hotels within the Marriott family of hotels. When you have to travel and need to book a hotel on the go you can quickly make reservations through the app as well as inform the hotel of any special accommodations you require. 
26. Meet Up: If you participate in any of the Meet Up groups, then the Meet Up app is an excellent tool for joining groups, submit an RSVP for a meeting and receive alerts when groups are being scheduled. I've joined the D.C. metro area Tech Breakfast meetings and the application allows me to see whose attending and connect with them after the meeting.
27. Mobile Mentor:  Mobile Mentor is an app by Harvard University. There is a cost to download all of the Mobile mentor content but the app contains best practice information on strategic planning, leadership development, strategy, operational excellence principles and much more. You'll find articles, animations and video briefings from Harvard University professors who will help you understand the key concepts and topics covered throughout the Mobile Mentor application.
28. NFL Mobile: Are you ready for some football? NFL football is my favorite sport to watch and I watch it in season and out of season. So, being able to have a few minutes to relax and catch up on some of the latest news around the league helps me to enjoy the sport I love. I've combined sports using this app by listen to a football game while playing nine holes of golf on a beautiful Sunday afternoon. 
29. OneNote: OneNote is a mobile app by Microsoft for the iPhone that allows you to capture notes in notebooks on various topics. You can have multiple notebooks as a collection of items in the OneNote application. You can store the notebooks on your desktop or in the cloud in your Google or Microsoft Sky drive. The advantage of storing your notebooks in the cloud is that you can then synchronize your notes and access them on your various devices.
30. Orbitz: Orbitz is a great travel app which allows you to find great deals for flights and hotels. I've use the mobile app to book a vacation and book flights and find great travel deals.
Interested in learning more:
42 Apps for iPhone That Will Increase Your Productivity – Part 1 of 4
Principles of Execution Key Concepts: 
Best iPhone Apps
Apps for iPhone
Best Apps
What apps have helped you increase your productivity and made you more efficient in your personal and professional life?
Share your ideas or thoughts!