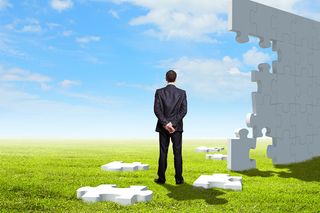 "Life is a continuous exercise in creative problem solving."
He was born on March 31st, 1948, in the District of Columbia. His early education began in Washington, D.C. and after high school he went on to attend Harvard. He was a member of the student body during some of the most serious anti-war sentiment that was sweeping through college campuses around the nation.
Although he felt the United States involvement in the war was a mistake, he still chose not to participate in most of the demonstrations that took place on the Harvard Campus. He stated that protesting a war by burning college campuses was a mistake in many ways. Later he was drafted, and chose to enlist instead of avoiding service like many of his classmates chose to do. 
He started making his way in politics after returning from the Vietnam War. He was no novice, his father had been an elected official for many years, and he had written his senior thesis about the impact that television would have on how the President of the United States appeared to the people.
He served in both the House and Senate, where he was involved in legislation that helped improve existing computer technology, and he also began what would become his life's work on the environment. He also used his position to help advocate the advancement of technology related to computers and telecommunications. He believed that a world connected was a world that would learn to work together toward common goals.
Who is Al Gore?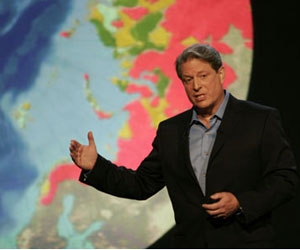 Source: Al Gore Backs Carbon Tax greentechmedia.com
Al Gore has made politics his life. He served for eight years in the House of Representatives, and eight more in the Senate before becoming the 45th Vice President of the United States. After serving as Vice President under Bill Clinton for eight years, Gore ran for president as a Democratic Party nominee in the year 2000. He lost this race to George W. Bush even though he got more popular votes overall. This was the year that the Supreme Court ruled in favor of Bush in the Florida recount controversy.
He continued to make a name for himself when Bill Clinton chose him as a running mate in his first presidential nomination. Despite criticism that the two were too much alike to effectively serve the country, Gore and Clinton won their party's nomination in 1992, and later the election. As Vice President, Gore continued his work on environmental concerns.
Al Gore has kept himself busy since leaving elected office. His work on global warming and other environmental concerns has resulted in several awards including the Nobel Peace Prize. He helped form four thriving businesses that are actively working on problem solving issues like climate change and other serious environmental issues. Climate change has been Gore's passion since his early days of politics, and it will be his legacy when he finally retires from the public eye.
Although early critics labeled Gore as "unimaginative" and called him Clinton's shadow when he became Vice President, he is now widely respected by most of his colleagues for his problem solving skills. His work on the environment through his various capital ventures has continued to bring him recognition. He has won several Emmy awards with his documentaries about the environment.
What can we learn from Al Gore about problem solving?
Be willing to face conflict and stand up for your beliefs.
Learn from those who have gone before you. He imitated his father.
Focus your energy in an area that you are passionate about. Al Gore is passionate about climate change.
Share your convictions publicly and get others involved.
Principles of Execution Key Concepts:
Al Gore
Climate Change
Problem Solving
Share your ideas or thoughts!