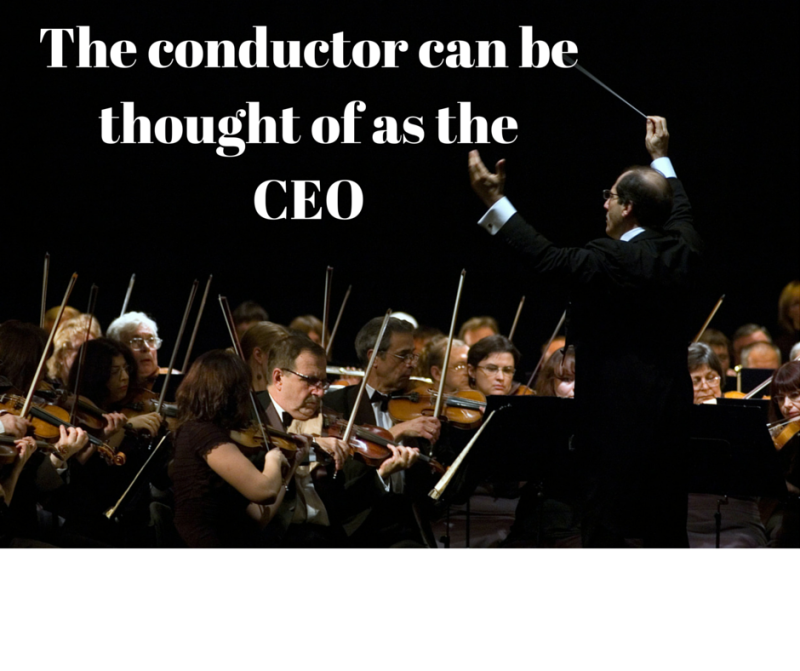 For as long as I can remember, I have been a musician.  I have played the bass, both upright and electric, throughout my youth and into adulthood. During these many years as a professional and classically trained musician, I learned more than just playing notes. I learned systems and how they work together.
Consider an orchestra for a minute. You can break them into four sections:
Strings
Winds
Brass
Percussion
These are all led by a conductor. Within each of these sections, there are smaller sections.
Strings – Violin I, Violin II, Viola, Cello, and Bass (my favorite).
Winds – Flute, Oboe, Clarinet, and Bassoon.
Brass – Trumpet, Trombone, Horn, and Tuba.
Percussion – Timpani, Snare, Marimba, etc., (there are many different instruments in this section).
Within these sections, you can break them down into even smaller categories:
Strings– Inner player and outer player (players share a stand and can read two different parts from the same sheet of music).
Winds– Flute (Piccolo, Alto, Bass Flutes), Oboe (English Horn), Bassoon (Contra), and Clarinet (there are many sizes of clarinet, all the way to Contra Bass).
Brass– Trumpets (Piccolo, and other sizes), Trombone (Bass), and Tuba (Euphonium).
Percussion– Like I said earlier percussionists must be the master of all types of instruments- the one rule is they must be struck. Did you know that a piano is considered a percussion instrument?
In each section there is a hierarchy- usually, the first chair runs the section, and they usually have the second chair as a partner. If there were a president of an orchestra, it would be the concertmaster- or first chair violin. The conductor can be thought of as the CEO.
This is not meant as a music lesson, more of a structure you may not have considered, but one I will refer to in this book. Sometimes to understand a concept, whether new or old, you have to think outside your usual understanding and context. It forces your mind to focus and concentrate because it is new, innovative, and hopefully for the sake of this book, interesting. 
Each concert that an orchestra prepares for is preceded by rehearsals, and this is the "production" of the piece to be performed. There are two parts to this process – orchestra rehearsal, and sectionals.
Think of the orchestra's seasonal concert series as your portfolio. Each concert in the series is a sub-portfolio, and each musical composition in a concert is synonymous to a project in the portfolio. Project Portfolio Management (PPM) is the decision process to determine which musical selection shall be included, categorized, prioritized and arranged in each concert, and must be aligned with the Orchestra's seasonal theme, or strategic objective of the executive director and conductor.
The sectionals are split up, so my Bass section would be working on our part of the music – this is project management. We have a specific project – music preparation. We must then fit back into to larger orchestra, or the portfolio during the rehearsal.
What is universal within the sectionals and the regular orchestra rehearsal is what I will be referring to as culture.
The whole point of PPM is to establish a culture that allows a process that systematically aligns those differences into a cohesive, aligned (and prioritized) portfolio that yields better results for the investment of company resources.
To read more click here