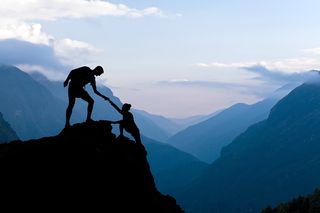 The key to successful leadership today is influence, not authority.
– Kenneth Hartley Blanchard

John C. Maxwell is an internationally recognized expert on the principles of leadership. The founder of EQUIP, the John Maxwell Company, and the author of numerous books that have sold more than 19 million copies, John has spoken to Fortune 500 companies, international government leaders, and provided leadership training to the National Football League, the United Nations, and the Military Academy at West Point.
Background
John was born in 1947 in Garden City, Michigan, the son of an evangelical Christian minister.
He completed his bachelor's degree at Ohio Christian University in 1969, his Master of Divinity at Azusa Pacific University, and a Doctor of Ministry at Fuller Theological Seminary. 
He followed his father into the ministry, leading churches in Indiana, Ohio, California, and Florida. He became senior pastor of Skyline Church in La Mesa, California in 1981. Due to his growth and excellence in leadership, attendance nearly tripled at the church. 
John decided to step down in 1995 to focus on his international ministry, Injoy, where he further developed his principles of leadership and established himself as the Thought Leader of Leadership.
In 2008, he became a guest pastor at the famous Crystal Cathedral alongside his mentor, Robert H. Schuller. 
Challenges
According to his blog, John says that he has made business moves that lost tens of thousands of dollars. 
In 2009, he was arrested in Palm Beach for having a handgun in his briefcase and attempting to carry it on a plane. In his blog, John explains that the handgun was a gift he received from a friend and that he simply forgot it was in his briefcase. Rather than offer excuses, John used the incident as a leadership lesson. His blog said that he took full responsibility for his actions. 
He also learned that when people stop paying attention, they often do things that will hurt them. 
Some have questioned his devotion to the church based on what they see as an extravagant lifestyle. 
Accomplishments
John has been named as the World's Top Leadership Guru by globalgurus.org for his excellence in providing leadership advice. 
John was named one of only 25 authors and artists in Amazon.com's 10th Anniversary Hall of Fame. 
Three of his books have each sold over one million copies. These books include "21 Irrefutable Laws of Leadership," "Developing the Leader Within You," and "The 21 Indispensable Qualities of a Leader." 
Free Assessment
What Can We Learn?
John is motivated by the philosophy that everything rises and falls on leadership. 
He invokes passion in those who hear him speak and helps them discover the leadership potential inside of them. 
John says that he realized, as a 24-year old pastor, that working hard isn't always what guarantees success and that hope is not a strategy. 
His accomplishments have come from taking the initiative and doing one thing specific each day to accomplish his goals. 
You can't succeed at anything if you don't start. You must look for the right circumstances and, if you can't find them, create them. 
You must take the initiative and do something specific each day that gets you one step closer to your goal. 
It is also important to set priorities in your life. John says that he begins by setting a sixty-minute appointment with himself each day for personal growth. Five days per week, fifty weeks per year, John uses one hour per day for this purpose. He says that the first reaction he gets when he tells people this is that they don't have time for that every day. He suggests using a lunch hour, getting up an hour early or staying up an hour later to begin setting goals and strategies for reaching those goals. 
Curiosity is another important trait in leadership. 
The more you seek knowledge, the more understanding and wisdom will seek you out. It will not come to you so you must go to it and keeping yourself curious is the best way to do that.
A good leader should also be willing to help others succeed. John says that there is a difference between a leader and an achiever. Real leaders do not focus on their position, their influence or their accomplishments. Instead, they focus on how to help others succeed. That is their motivation. 
Website References

http://www.christiancinema.com/catalog/newsdesk_info.php?newsdesk_id=973 http://www.newreleasetoday.com/authordetail.php?aut_id=343
http://www.success.com/article/an-interview-with-john-c-maxwell