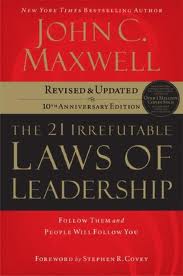 Premise:
The premise of "The 21 Laws of Leadership" is that leadership can be learned and it's based on principles and laws of nature. Once you understand the 21 laws and practice them you will improve and increase your leadership capability. It's only when you enhance your leadership ability can you truly increase your personal and professional effectiveness.
What I learned:
Each of The 21 Laws of Leadership principles transcend time. Leadership is leadership no matter which period of history it is practiced.
Each of the 21 laws is like a tool in a toolbox. Learn to use one and you will become a better leader. Learn to use them all and your leadership and influence will soar and others will follow you.
The thing I love most about John Maxwell's writing is that he introduces you to new people in all of his books and "The 21 Laws of Leadership" is no exception. People like Ray Croc, Princess Diana, Mother Teresa, Teddy Roosevelt, E.F. Hutton, Rob McNamara, Tom Landry, Henry Ford, Bill Walsh, Mahatma Gandhi, Winston Churchill, John Wooden, Lee Iacocca, Jimmy Carter and many others. The examples and case studies that Maxwell shares brings each of the laws to life and help you understand how to put them into practice.
A few of my favorite laws are:

The Law of the Lid – leadership determines a person's level of effectiveness.
The Law of Process – leadership develops daily, not in a day
The Law of the Inner Circle – those closest to you determine your potential
The Law of Reproduction – it takes a leader to grow a leader.
The Law of Magnetism – you are who you attract.
The Law of a Legacy – leaders create lasting value that makes a difference in the lives of others.
Conclusion:
"The 21 Laws of Leadership" are principles and practices that can be summarize in John Maxwell's favorite saying, "Everything rises and falls on leadership." These principles require continuous review to master and diligence study. I highly recommend this book to anyone interested in growing in their leadership ability and desire to influence others. Learn the 21 laws of leadership and others will follow your leadership. 
Principles of Execution Key Concepts:
Leadership
John Maxwell
21 Laws of Leadership
Share your ideas or thoughts!