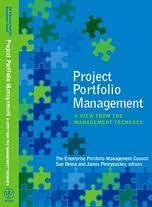 Premise:
"Project Portfolio Management," authored by the Enterprise Portfolio Management Council, focuses on the key thinking and portfolio management processes developed by a number of senior portfolio management practitioners and experts with the goal of creating a community of senior portfolio management leaders. The authors come from a wide spectrum of industries and organizations in order to support and build up the portfolio management body of knowledge.
What I learned:
A successful project portfolio management capability should address the following 5 questions:
Are we investing in the right things?
Are we optimizing our capacity?
How well are we executing our projects?
Can we absorb all the changes we are implementing?
Are we realizing expected returns and benefits?
One of the fundamental principles of the Enterprise Portfolio Management Council is that Project Portfolio Management is about action.
Another set of key questions the book proposes are the six questions that newspapers journalist and magazine writers think about as they craft an article:
Who will use the PPM process?
What should we use the PPM processes for?
When should it be used?
Where should it be used in the organization?
Why are we using PPM?
How do we decide to utilize PPM in our company?
Free Assessment
The book is based on the story of John Durham who lives and works in the Midwest. He was hired to run a large portfolio and has been on the job for six months. Things in his department are not going well with his portfolio processes and improvements in the system are not moving forward. John gets a phone call from an old friend who tells him about the Enterprise Portfolio Management Council and how this group has helped them move their portfolio forward. His friend's department is now running a balanced portfolio with the assistance he received from the council. As the story moves on, the expert EPM practitioner becomes a mentor and coach to John and provides guidance on maturing his department's PPM capabilities.
Conclusion:
"Project Portfolio Management" by the EPM Council provides great guidance for portfolio management practitioners. It's the story of John Durham's struggles through the process of developing a PPM methodology and his friend providing guidance on how to improve the process. The book is full of screenshots and a number of dashboards and reporting mechanisms that I've used on PPM engagements with great delight to my customer.  This step-by-step guide provides the insides, directions, principles and processes that you will need to implement PPM. Reading this book will help you understand your strategic value as a project portfolio management practitioner and your organization and clients will thank you.