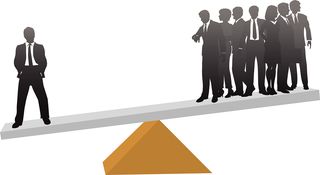 "Success is getting what you want. Happiness is wanting what you get."
His Life
* Born on January 17, 1706 (or according to O.S. January 6, 1705) [Link to Old Style below. Very interesting.] Died April 17, 1790.
* Benjamin was the eighth child of his father's second wife, the tenth boy, and the last boy among seventeen children. (Four from the first wife, Josiah Franklin, and thirteen from the second wife.)
* Born in Boston on Milk Street. Was baptized at Old South Meeting House.
* Could only go to school for two years because his parents didn't have enough money. Attended Boston Latin School but didn't graduate.
* He stopped going to school at the age of ten but continued his education by reading.
* Worked with his father until he became an apprentice for his older brother James. He was twelve. He was taught the printing trade.
* Three years later, his brother founded The New-England Courant – the first independent newspaper in the colonies.
* Created a pseudonym "Mrs. Silence Dogood" (middle-aged widow) so that he could get his writings published in the newspaper.
* Left his apprenticeship when his brother found out that he was writing and he became a fugitive. 
* When he was 17, he fled to Philadelphia, wanting to start a new life. He wasn't happy working in the printing shops so he went to London, convinced by the Governor of Pennsylvania, in order for him to have the know-how to create a printing shop in Philadelphia.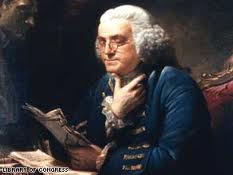 * Although he didn't find what he was looking for in London, he worked as a typesetter in a printing shop in Smithfield (an area of London).
* He worked for a man named Thomas Denham as a clerk, shopkeeper, and bookkeeper. Denham paid for Franklin to return back to Philadelphia in 1726 (20 years old).
* When he was 21, Franklin founded Junto, which was a discussion group that led to many other organizations in Philly. Franklin wanted to use Junto as a way for people to grow in their trade and help their communities at the same time.
* Since books were so rare and expensive back then, Franklin created the term "subscription library." Members of Junto would combine moneys to get books for all people. This method created the Library  Company of Philadelphia. The charter was made by Franklin in 1731. Franklin hired Louis Timothee to be the first American Librarian.
* He also formed the American Philosophical Society – the first learned society in America. And he also helped form the Pennsylvania Hospital, seeing that there were many sick people that needed better care.
* He organized the Union Fire Company – the first in Philadelphia – after seeing the need for fire protection.
* Noticing that people who lost property in fires had a severe economic loss, Franklin formed the Philadelphia Contribution for Insurance Against Loss by Fire.
* Many of the organizations Franklin formed are still established to this day. 
* After Denham's death, Franklin went back to working in printing shops. He partnered up with Hugh Meredith and in 1729, they created the Pennsylvania Gazette. Through the newspaper, he was able to gain social respect and write about his agitation about certain things in his community.
* 1731 – was initiated into the Masonic Lodge. He became a freemason for the rest of his life.
* Had a common-law marriage with a woman named Deborah Read and they had two children. The firstborn died from small pox but the second child, Sarah (Sally) Franklin, survived. She took care of her father when he was an old man.
* Franklin had an illegitimate son named William (the mother is unknown). He was 24 when he confessed he had a son. His relationship with William fell a part because William sided with the Loyalist. William later became the last Loyalist Governor of New Jersey. After the American Revolution, he went to England and never returned. 
* William's illegitimate son, William Temple Franklin, went to live with his grandfather in Philadelphia. He was secretary to his grandpa when he went to Paris during the Revolutionary War.
* 1733 – Franklin started publishing the Poor Richard's Almanac with the pseudonym Richard Saunders.
* Sold ten thousand copies of the Almanac each year (which would be 3 million copies today).
* After the Almanac, Franklin wrote Father Abraham's Sermon (The Way to Wealth).
* His autobiography started in 1771 but wasn't finished till after his death.
* Franklin was a great inventor. He made the lightning rod, glass harmonica, bifocal glasses, and other great inventions. None of his inventions were patented. He wanted to make sure his creations were being used for the good of all people.
* He also created the method of paying forward.
* Thomas Malthus credited Franklin for discovering his rule of growth population.
* Pioneer of slave demography; was shown in his 1775 essay.
* Franklin with his cousin charted the Gulf Stream.
* By 1749, Franklin was able to retire and focus on his other hobbies (science, inventions, etc.)
* In the early 1750's, Franklin did his famous kite experiment, proving that electricity and lightning were similar.
* In 1757, Franklin went to England to represent Pennsylvania and then later Massachusetts, New Jersey, and Georgia. He didn't return to America till 1775.
* In 1765, Franklin persuaded Parliament to appeal the Stamp Act and started to actively work towards his earlier goal of unity among the colonies.
* In the Hutchinson Affair, Franklin was condemned in public for leaking letters that Governor Hutchinson of Massachusetts wrote about how he was thinking about limiting the liberties of colonists. After this situation, Franklin turned his back on England.
* Once he came back to America, he came a member of the Second Continental Congress and helped draft the Declaration of Independence. He signed the Declaration in 1776 and then went to France to be an ambassador for the country.
* Franklin was considered a celebrity in France and he was known as a notorious flirt. Several years before he went to France, his wife passed away.
* Because the French loved Franklin, France signed a Treaty of Alliance with the colonies in 1778. Franklin also persuaded France to give the colonies loans and inevitably sign the Treaty of Paris in 1783.
* When he returned to America, he became the president of the Executive Council of Pennsylvania. He was also a delegate for the Constitutional Convention and signed the Constitution.
* One of his last acts was that he wrote an anti-slavery treatise in 1789.
* More than 20,000 people attended his funeral.
* Benjamin Franklin was buried in Pennsylvania and there is a Benjamin Franklin National Memorial and a Franklin Institute Museum named after him. 
How can you practice Ben Franklin's secrets of effectiveness?
Develop a love for reading.
Become an apprentice of your craft.
Develop the habit of taking action.
Develop goals that make you discontent so you will be motivated to continuously grow personally and professionally.
Identify your core values and develop a mission statement to live by everyday.
Find a mentor or coach.
Find ways to be of service to the masses.
Become a problem solver.
Learn to pay it forward.
Learn everything you can about time management like your life depended on it, because it does.
 What have you learned from Ben Franklin? I would love to hear from you.
REFERENCES:
http://en.wikipedia.org/wiki/Benjamin_Franklin
http://www.ushistory.org/franklin/info/index.htm
http://www.pbs.org/benfranklin/
http://en.wikipedia.org/wiki/Old_Style_and_New_Style_dates
Principles of Execution Key Concepts:
Ben Franklin
Increase Your Effectiveness
Results
Share your ideas or thoughts!