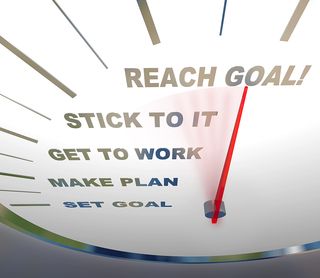 "What you get by achieving your goals is not as important as what you become by achieving your goals."
-Zig Ziglar
Her Challenges:
Her mother was an unmarried teenager.
Lived with her grandmother during her first six years. Her grandmother was so poor that at times her dresses would be made out of potato sacks.
Had a half-brother and a half-sister die. 
Suffered abuse from family members, which led to her running away at age 13.
Started to go to Lincoln High School, but because of her good grades, she was transferred to Nicolet High School.
Moved to be with Vernon Winfrey after causing trouble with her mother and he encouraged her to make education a priority.
Became an honors student and joined her high school speech team at East Nashville High School. She also placed second nationally in dramatic interpretation.
Won an oratory contest that gave her a full scholarship to Tennessee State University, where she studied communication.
During her senior year of high school and her first two years in college, she worked at a black radio station called WVOL.
Was inspired by her grandmother to pursue her talent in media.
Who is Oprah Winfrey? 
 Some Highlights:
Became the first black female news anchor at Nashville's WLAC-TV.
In 1983, she became the host of AM Chicago. Became the highest rated talk show in Chicago.
The Oprah Winfrey Show aired for the very first time on September 8, 1986.
Changed the Discovery Channel to OWN: The Oprah Winfrey Network on January 15, 2008.
Oprah Winfrey is a goal setter and a goal getter. What can we learn about getting results through goal setting? In this post I decided to share articles that have helped me reach my goals by one of my favorite authors, Brian Tracy. Below are links to a number of Brian's most popular blog posts on goal setting:
My experience with using Brian Tracy's goal setting techniques:
This week I attend the 2012 Microsoft Project Conference in Phoenix Arizona where I was awarded the Microsoft Project User Group's Chapter Leader of the Year for helping to build the fastest growing chapter globally in the Washington, D.C. metro area. I also had the honor to deliver a presentation on Critical Chain Project Management. Below is a picture taken during the awards ceremony and a YouTube video of an interview I conducted with MPUG. 
MCLA Chapter Leader Award 2012: 
Gerald Leonard MPUG Baltimore-Washington Metro Chapter President
Gerald has been with MPUG and the DC chapter for many years.  His leadership and recruitment of an excellent board has made the Washington DC, Baltimore and Virginia chapter one of the strongest WW in terms of community and consistently compelling content.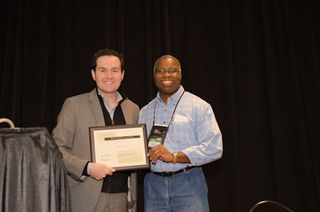 MPUG talks with Gerald Leonard about Critical Chain Project Management