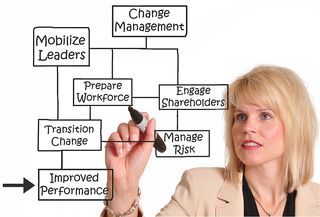 How Nelson Mandela Change A Nation And What We Can Learn From Him About Change Management?
"Few men are willing to brave the disapproval of their fellows, the censure of their colleagues, the wrath of their society. Moral courage is a rarer commodity than bravery in battle or great intelligence, yet it is the one essential, vital quality for those who seek to change a world which yields most painfully to change." –Robert F. Kennedy
His challenges
His branch of the royal family was ineligible to rule on the throne.
His father died when he was nine due to tuberculosis.
He was the first member of his family to obtain any schooling/education.
He worked as a guard in a mine in Johannesburg, South Africa.
He received a BA from the University of Johannesburg.
He was arrested for sabotage and committed to prison at the age of 45. It would not be the last time he was wrongfully convicted.
While in prison, he completed a Bachelors of Law from the University of London External Program.
In January 2007, he attended the 100th Anniversary of Mahatma Ghandi in New Delhi. He was greatly influenced by Ghandi and his non-violent resistance protests.
The power of one man to change a nation is not only available to the super elite, but to everyone who decides to cultivate the capability of LUCK. Nelson Mandela is an inspiring figure in history that changed a nation while being wrongly placed behind bars. He was able to strategically outmaneuver the powers that be because he used the principles of LUCK (Laboring Under Correct Knowledge).
Here are a few highlights from Nelson Mandela's life using the principle of LUCK:
He became President of South Africa.
He became a respected world leader.
He persuaded all of South African citizens to get behind the Springboks who eventually won the 1995 Rugby World Cup.
 He negotiated the peaceful handover of the Lockerbie Boomers in Libya, Untied States, UK, and France.
In 1993, he won the Noble Peace Prize for his work to reconcile relationships between the ANC and the ruling majority. 
Strategic Portfolio Management primary goal is to align ones activities with one's core objectives and goals.  This is true for an organization or an individual. How can we utilize the LUCK principles in our change management efforts in the way that Nelson Mandela changed South Africa? The answer is we need luck! LUCK = Laboring Under Correct Knowledge
Laboring:

To be lucky, you need to labor to obtain an education that will increase your service and core competencies.
Develop a strong work ethic. Remember: If it is to be, its up to me. I mean you.
Build relationships that matter. Effective relationships require laboring to know the other person's values, goals, fears and dreams.
Mandela's determinations to accomplish his goals by hard work are captured in a statement he made on April 20, 1964 at the Supreme Court in Pretoria, "During my lifetime, I have dedicated myself to the struggle of the African people. I have fought against white domination, and I have fought against black domination. I have cherished the ideal of a democratic and free society in which all persons live together in harmony and with equal opportunities. It is an ideal which I hope to live for and to achieve. But if need be, it is an ideal for which I am prepared to die."

Under:

Remain humble. Remember: We all are under someone's authority.
Find a mentor. Look for a mentor that is more like a tour guide than a travel agent. Travel agents tell you where to go, but they have never been there themselves whereas tour guides tell you where to go and take you there.
Know the rules and learn to play by them. Rules are not always meant to be broken, but learning how to work the system will enable you to accomplish your goals despite the rules or bureaucracy that may hinder your progress.

Correct:

"A man must be big enough to admit his mistakes, smart enough to profit from them, and strong enough to correct them." John Maxwell
Learn to ADPIE when you experience a problem.

Assess – Determine the root cause of the problem.
Diagnosis – Document the potential cause, analysis the data and develop a hypothesis.
Plan – Develop a step by step process to correct the problem based the first two steps.
Implement – Execution your plan.
Evaluate – Review the results and determine next steps.

Ensure that you are using the right sources of information. Harvard Business Review provides peer reviewed research and best practices.
Knowledge:

Seek knowledge – never stop learning.
Read a book a month, then a book every other week until you are reading a book a week.
Validate and verify your sources. Remember: HBS.
Principles of Execution Key Concepts:
Change Management
Leadership Development
Apartheid
Wisdom
Sources
Do you feel lucky? Let me know what you think!
Share your ideas or thoughts!