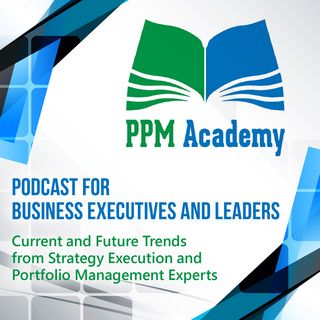 Welcome to the PPM Academy podcast for Project, Program & Portfolio Managers where we will Interview Industry Experts and discuss current and future trends in the world of Project, Program and Portfolio Management and how what we do impacts our company's execution culture.
I'm Gerald Leonard.
Today, I plan to share with you why I started the PPM Academy Podcast.
If you are the kind of person that loves to learn new insights and real world examples and hate boring management presentations or podcasts that are purely academic and void of real life examples, then this podcast is for you.
So, why start another Project Portfolio Management Podcast? PPM is simply the ability for an organization or individual to make the best data-driven decision in the selection of activities and tasks that are aligned to their goals while making the most of their limited resources.

I love making the right decision.
I love prioritizing chaos and helping my family, friends and clients become more, do more, have more and live more as they achieve their goals and objectives.
I want to make the concepts of PPM plain and practical.
I started my website six years ago as a blog, "Principles of Execution," with the goal of sharing stories about people who achieved greatness using the basic building blocks of Project Portfolio Management:
These building blocks are:

Effective Leadership
Value Innovation
Visualizing Desired Outcome
Managing Stakeholders Expectations
Managing Risks
Systematic Problem-Solving
Focusing on Results
Choosing the Right Vehicle and People
Communicate to Manage Change
Continuous Improvement

The outcome of creating this website is the accumulation of a number of presentations, articles, and whitepapers. However, I also wanted to share my opinions, and views in my own words. So, the idea of the podcast was born.
My goal is to produce a weekly podcast, interviewing PPM industry experts, sharing our practical wisdom and advice to help all of us grow.
According to the research published by MarketsandMarkets, the PPM market size is estimated to grow from USD 2.52 Billion in 2015 to USD 4.63 Billion by 2020
From <http://www.prnewswire.co.uk/news-releases/project-portfolio-management-ppm-market-worth-463-billion-usd-by-2020-568633351.html>
The weeks where I do not interview an Expert, I plan to share something I've learned or discuss a book I've read or share with you excerpts from books I'm reading.
I would also love to include you in on the conversation by incorporating your question into my interviews with Experts. This will be done using the voicemail system I have installed on my website. We will answer your questions on the podcast and notify you on which podcast your question was discussed in.
I'm a lifelong learner.
As I conclude, I want to democratize the knowledge and concept around Project Portfolio Management because I believe it is a skill we all use every day and the better we all understand it, the better we can make the most of the world's limited resources and live a life where we achieve our most significant goals.
For more Expert insight Go to Principles of Execution.com Podcast.