"The effect of one upright individual is incalculable." -Oscar Arias
"When the effective leader is finished with his work, the people say it happened naturally"  -Lao-Tzu
His Life
Born October 24, 1932 in Salt Lake City, Utah.
Grandson of Stephen Mack Covey, founder of Little America.
Earned a Bachelor's of Science degree in business administration from the University of
Utah.
Earned an MBA from Harvard.
Earned a Doctor of Religious Education from Brigham Young University.
Member of Pi Kappa Alpha International Fraternity.
Over the span of his life, he sold over 20 million books in 38 languages.
Received the International Man of Peace Award.
National Fatherhood Award – had nine children and forty-four grandchildren.
Co-founder and vice chairman of FranklinCovey.
Received the International Entrepreneur of the Year Award.
Received eight honorary doctorate degrees.
He was a part of the Church of Jesus Christ of Latter-day Saints and he served on
a two-year mission in England because of that. Served as first president of the
Irish mission in 1962.
Died from complications from a fall in April on July 16, 2012.
Free Assessment
 Things I learned from Stephen Covey in 1992 that change my work-life balance paradigm:
Be clear about my value and principles. They will control my behavior.
Big Rocks are my priority!
Be proactive; don't wait for someone to tell you what to do.
Have a written mission statement, values and goals that I review regularly. Begin with the End in Mind.
Value the compass more than the clock.
Review my week for lessons learned and plan for the next seven days in detail every week.
Focus on what's important more than what's urgent and not important. Live a quadrant 2 life style.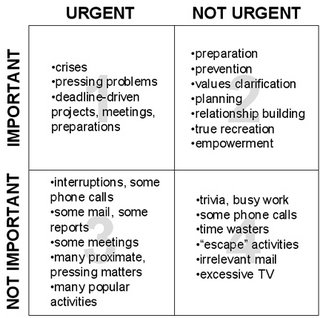 Do something important in every role each week (i.e. husband, father, extended family member, teacher at church, consultant, musician, friend, writer, and speaker). 
Learn to enjoy the journey while achieving the goal.
Obey the Law of the Farm; you can't cram on the farm or any other natural system.
Educate my conscience by learning, listening and responding.
Put first things first.
You can't be efficient with people, only effective.
Make sure my personal and professional ladder is leaning against the right wall.
Focus on my circle of influence and pray about my circle of concerns. The more I focus on what I can influence the smaller my concerns will become.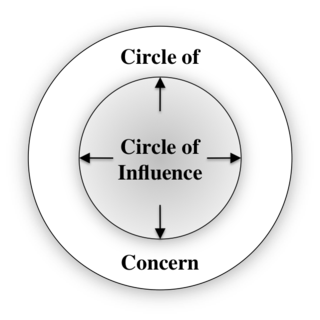 Never forget to sharpen the saw or to be too busy driving that I can't stop for gas.
Think Win-Win.
Value other peoples differences. Think Synergistically.
Seek first to understand, then to be understood. (This one is hard to live but I'm still working at it).
Remember the secret of the Chinese Bamboo: You have to go deep before you go up.
What lessons have you learned from Dr. Covey? I would love to hear from you.
References
https://www.stephencovey.com/about/about.php
http://en.wikipedia.org/wiki/Stephen_Covey
 Principles of Execution Key Concepts:
Stephen Covey
7 Habits of Highly Effective People
Leadership
Share your ideas or thoughts!