Premise:
The premise of "An Attitude of Excellence", written by Dr. Willie Jolley is that excellence is the hallmark or touchstone for all high-performing organizations. Dr. Willie Jolley has delivered the content of this book to organizations such as Verizon Communication, Dell, Marriott, Walmart, and most notably Ford Motor Company. This book provides a new framework that he has developed to help organizations achieve two main objectives:
1)     To enable organizations to create a culture of excellence.
2)     For individuals to have a personal framework for doing their best personally and professionally.
Side notes: I had the honor of meeting Dr. Willie Jolley when I first attended the National Speakers Association meetings in the Washington DC area in 2013. In 2014, I attended a two-day workshop at his Washington DC office with a group of other business owners to receive personal coaching and guidance from Dr. Jolley and his wife, Dee Jolley. What I learned during those two days was life-changing and a transformation of my attitude towards the pursuit of excellence.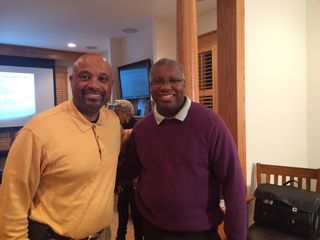 What I learned:
Excellence is a habit that we can cultivate if we pursue it on a daily basis.
Excellence comes from developing leadership skills used to serve and that you must first lead yourself before attempting to lead others.
Job security can be obtained by developing a reputation for excellence. Because, anyone who has achieved a level of excellence in their chosen occupation and continues to develop themselves will have opportunities knocking at their door.
To develop a five-star organization, you must develop five-star employees.
"The best way to grow your future is to grow yourself."
Work on getting better every day. Listen and read something every day that will help you get better personally and professionally.
"Excellence is the gradual result of always striving to do better!"
Conclusion:
"An Attitude of Excellence" is a must read for organizations and individuals striving to achieve high-performing results. Much of the content in this book is the material Dr. Willie Jolley used to impact The Ford Motor Company and help it avoid the federal government's bailout program. Purchase this book and allow its content to help you develop an attitude of excellence.
To learn more about Dr. Willie Jolley's resources and professional development training, click here. 
Principles of Execution Key Concepts:
Attitude of Excellence
High-performing organizations and individuals
Grow yourself
Share your ideas or thoughts!