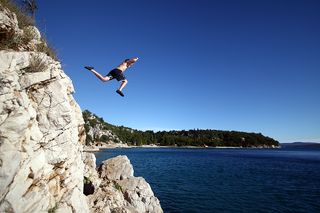 "I believe that one of life's greatest risks is never daring to risk". Oprah Winfrey
He understood the importance of managing risks and being prepared to make life or death decisions.
He was the flight director for all the Mercury and Gemini flights at NASA.
His standards for excellence were high and the people who worked for him knew it. They either provided the information that he needed to make good decisions or they needed to hand him their resignation.  The answer, "I do not know," only worked so many times.
However, he also treated his staff with respect and modeled the saying "you can catch more flies with honey than you can with vinegar." He had a reputation for treating his staff with respect both professionally and personally.
He believed in relentless training and simulated practice. His teams needed to think through every scenario because one mistake could cost lives.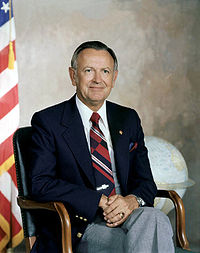 Mr. Kraft was born and raised in a small town called Phoebus, Virginia  which is now a part of Hampton VA.
He has always been intrigued with the world of science and attended the Polytechnic Institute in Virginia where he studied aeronautical engineering.
His first job was with the National Aeronautics and Space Administration where in 1960, he was selected as the flight director of the Mercury missions that launched the first Americans into space.
Kraft's philosophy was very simple, "Better to learn from your mistakes during training than from experience during a real space flight."
What can we learn from Mr. Kraft about risk management?
Risk Management is a critical planning component that must be considered in all of life's endeavors.
When risks are high and the impact is great, simulation and scenario based training and piloting is a requirement.
Always be prepared and test your contingency plans until the team's response is automatic.
In 1967, three astronauts loss their lives due to a fire on the first Apollo space craft. Mr. Kraft's team reviewed every detail of the incident and committed to improve their processes so that their colleagues lives were not loss in vain.
What can we learn from Mr. Kraft's style of risk management and the advantages of being an educated practitioner?
1)      Risk Management Creates Value
a)      Mr. Kraft's commitment to managing risk at NASA enabled the United States to become more competitive in the race to put a man on the moon and space exploration.
2)      Risk Management Helps With Decision Making
a)      Because of Mr. Kraft's relentless pursuit of a higher standard of excellence, he used risk management during training to make better decisions for the astronauts and reduce the potential loss of life.
3)      Risk Management Helps Address Uncertainty
a)      His team conducted countless numbers of brain storming sessions to determine every possible risk they could consider. One rock not turned over meant a high probability of death.
4)      Risk Management  Enables You To Be Systematic, Structured, And Timely With Managing Your Assumptions.
a)      Risk management should be addressed in a systematic way using industry best practices and risk frameworks. There are a number of risk management frameworks that are available for reference which I have listed below:
ii)       COSO Enterprise Risk Management Framework
iii)     ISO 31000, Risk Management Principles and Guidelines on Implementation
iv)     AS/NZS 4360:2004 Australian / New Zealand Standard, Risk Management
v)      Operationally Critical Threats Assets and Vulnerability Evaluation (OCTAVE) Framework
5)      Risk Management Can Be Tailored.
a)      His teams tailored risk management to fit their professional business model and to take into consideration the various risks that one could face in a mission controlled environment.
6)      Risk Management Considers The Human Element And Takes Cultural Factors Into Account.
a)      Risk Management is important because it protects our human life value. Can you place a price on the value of someone's life? Risk management practitioners are really in the business of protecting human life value. Think about it. The value of technology or any asset is the value we as people give to it. If no one found value in a item that item becomes worthless. Do you remember bell bottoms? Should I say more?
7)      Risk Management Provides Visibility, Transparency, And Creates Inclusiveness With Stakeholders.
a)      The purpose of risk management at NASA or any other organization is to provide visibility into threats to human life or equipment and/or the opportunity to take advantage of positive risks. Yes, risk can be positive. (I will discuss this in another article).
8)      Risk Management Is Dynamic, Iterative, And Responsive To Change
a)      Mr. Kraft and his team needed to remain fluid in their management of risk during their flight missions. A risk trigger could be alerted at any time. The execution of a mitigation or contingency plan could also realize residual risks so his team needed to be flexible.
9)      Risk Management Enables Continuous Improvement.           
a)      Mr. Kraft understood that the great benefit of risk management is the CANI effect. CANI is a acronym that Tony Robbins coined, "Consistent and Never Ending Improvement." Are you learning and improving because of your organizational or personal risk management practices?
Principles of Execution Key Concepts:
Chris Kraft
Consistent and Never Ending Improvement
Risks Management
Share your ideas or thoughts!