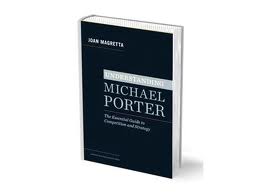 Premise:
The premise of the book, "Understanding Michael Porter" is that clear strategic thinking is essential for managers at all levels of an organization. This essential guide provides the foundation for understanding the basic principles of competition and strategy and establishes a framework in which Michael Porter's writings are easier to digest than his original texts. A direct quote from the book states that, "Strategy is not fast food." The essence of strategy is not only choosing what to do, but also choosing what not to do.
What I learned:
The key to competitive strategy rests on an organization's ability to create unique value and to be uniquely focused on creating value that customers understand within the structure of their industry and your company's relative position.
Good strategy helps explain how an organization in the face of competition will accomplish superior performance and greater profits.